Searching for a refreshing and lightly digestible alternative for milky protein shakes? Then try our protein drink made of "clear whey" protein isolate wrapped in a tasty fruit flavour. In addition the drink has low fat and sugar content, and is free of lactose. It"s an ideal supplement to support muscular recovery, and/or stimulate muscle mass gains.
Rapidly absorbable clear whey isolate with top-range protein quality
30g protein to yield maximal recovery and/or muscle mass growth
3g L-leucine to obtain peak activation of muscle building and repair
Lightly digestible and refreshing alternative for milky protein shakes
Two delicious flavours via natural flavours and colourants
Looking for the nutritional information or ingredients? Please select a flavour first.
Suggested use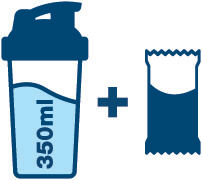 Add 35g powder (=1 sachet/pouch) to 350 ml of water.
Preferably ingest immediately after exercise, or optionally as an extra protein boost to complete the recommended total daily protein dose.
Wait for 1 min following mixing to allow the natural foam formed to get into solution.
What is clear whey?
Clear whey is a powder composed of whey protein isolate that is readily soluble in water to form a transparent drinking solution. The taste and texture are similar to a convenient sports drink. The powder is lactose-free*, and is low in fat and sugar. Therefore, this supplement is first choice for individuals preferring a refreshing protein drink rather than a milky protein shake, such as 6d whey protein, following a strenuous exercise training session.
* Contains <0.01g lactose per 100 ml ready-to-drink solution.
Why to use a whey protein supplement post exercise?
Whey proteins exhibit the optimal amino acid profile to produce speedy absorption and thereby promote rapid muscle repair and optimal training adaptation after exercise. For strength and power athletes this involves enhanced muscle building and force gain, whilst endurance athletes will benefit from the production of proteins driving muscular endurance capacity. In active individuals combining training with low-energy diet to obtain weight loss, supplemental protein intake also will prevent muscle mass degradation.
Why to ingest 30g of whey protein per dose?
Depending on your body weight, stimulating maximal rate of muscle protein accretion requires a 20 to 40g protein dose. The fraction of L-leucine also plays a pivotal role: against the background of 20-40g protein intake, the addition of a 3g L-leucine dose yields maximal rate of muscle protein accretion. Therefore, a 6d WHEY DRINK delivers 30g whey protein isolate in combination with 3g L-leucine.
More Information

| | |
| --- | --- |
| Gluten free | Yes |
| Low-carb | Yes |
| Weight | 280g |
| Quantity | 8 x 35g |
| Vegetarian | Yes |
| Lactose-free | Yes |
| Flavour | Orange-Mango |