Pea & rice protein
29g protein
3g L-leucine
Sugar-free
100% natural
Looking for the nutritional information or ingredients? Please select a flavour first.
Suggested use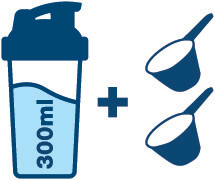 Mix 40g (= 2 scoops) powder with 300ml water.
To be used immediately after exercise or at any time of the day to meet daily protein requirements.
Mix with 300ml soy milk to obtain a "NIGHT PROTEIN" shake with ±40g of protein.
Product description
Research has shown that muscle protein synthesis is maximised after ingestion of 20 to 40g of protein. Besides the amount of protein, the leucine content of protein sources is also very important. It turns out that 3g leucine is needed to maximise muscle protein synthesis. Because of the ideal amino acid profile, the high protein and leucine content, whey protein is the best protein source for maximising muscle protein synthesis. Especially after exercise, because the amino acids from whey protein are digested and absorbed the fastest (see 6d WHEY PROTEIN). A high dose of casein protein (e.g. 40g) is the best choice to take before bed because of its sustained release profile (see 6d Night Protein). However, athletes do not always want/aren"t able to use these milk-based protein sources. Just think of athletes with an allergy to milk proteins, athletes with lactose intolerance, and recently also more athletes who prefer vegetable protein sources out of personal conviction.
Based on current research, it seems that animal proteins such as whey protein are more effective at building muscle mass than plant-based proteins. This is partly due to the composition of the amino acids (= amino acid profile). Plant-based proteins usually contain less protein and less leucine than animal protein sources and are often low in one or more essential amino acids. However, this does not mean that plant-based proteins are unable to make a significant contribution to muscle recovery, general recovery, and building muscle mass and muscle strength. On the contrary, various studies show that the muscle-building properties of plant-based proteins can be increased by combining plant-based protein sources with a complementary amino acid profile (e.g. pea and rice protein), by adding extra leucine, or simply by consuming a larger dose of the plant-based proteins.
For these reasons, the "6d VEGAN PROTEIN" consists of an all-natural, premium blend of pea and rice protein with added L-leucine to ensure a complete amino acid profile. One serving contains 29g of high-quality protein of which 3g L-leucine. A natural complex of digestive enzymes has been added to the protein mix to improve the digestibility of the plant-based protein, which facilitates a faster absorption of the amino acids. Finally, the "6d VEGAN PROTEIN" is free of soy and lactose, and contains no artificial flavours, colours or sweeteners.
As a result, the "6d VEGAN PROTEIN" is best suited for athletes who are looking for a plant-based protein powder that maximally supports muscle building and recovery and thus optimises training adaptations. This protein powder is also a great choice for vegetarians and vegans looking for an easy and effective way to increase their daily protein intake, whether or not during a weight loss period.
More Information

| | |
| --- | --- |
| Gluten free | Yes |
| Low-carb | Yes |
| Weight | 800g |
| Quantity | 800g |
| Vegetarian | Yes |
| Vegan | Yes |
| Lactose-free | Yes |