Whey isolate
29g protein
3g L-leucine
Low carb
Natural flavours
Looking for the nutritional information or ingredients? Please select a flavour first.
Suggested use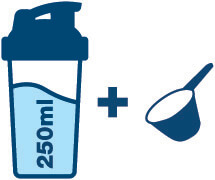 Mix 35 g (=1 scoop) of powder into 250ml of water.
To be used immediately after exercise or throughout the day to meet your daily protein requirements.
Product description
Strength training is an important part of most training programs. This is the case for both top athletes and recreational athletes who strive for a fit and healthy body. The goal of strength training is to increase muscle strength and/or muscle mass. To limit the loss of muscle mass after exercise, and to maximise the synthesis of new muscle proteins, it is important that sufficient protein is taken after strength training. This process eventually leads to more muscle mass. Also during a period of energy shortage, for example during a low-calorie diet to lose weight, proteins contribute to the maintenance of muscle mass. When you lose weight, you prefer to lose fat, not muscles.
Research has shown that muscle protein synthesis is maximized after ingestion of 20 to 40g of protein. Next to the amount of protein, also the leucine content of protein sources is very important. It turns out that 3g leucine is needed to maximize muscle protein synthesis. Leucine has a much greater effect on the synthesis of muscle protein than any other amino acid. This is one of the reasons why whey protein is the most effective in stimulating the synthesis of muscle protein after exercise, but also at rest. Whey protein contains all essential amino acids and is also naturally rich in leucine. Moreover, the amino acids from whey protein are digested and absorbed the fastest, so that the recovery process can start immediately.
"6d Whey Protein" only consists of premium-quality whey protein isolate with added leucine for the above-mentioned reasons. One serving contains 29g fast-absorbing protein, 3g L-leucine, only 1.3g of carbohydrates, and 0.7g fat. As a result, the "6d Whey Protein" is the ideal shake for athletes that do strength training, but also athletes that (should) restrict their carbohydrates intake can use this drink.
More Information

| | |
| --- | --- |
| Gluten free | Yes |
| Low-carb | Yes |
| Weight | 700g |
| Quantity | 700g |
| Vegetarian | Yes |
| Flavour | Vanilla |