Micellar casein
Slow release
39g protein
Low carb
Natural flavours
Looking for the nutritional information or ingredients? Please select a flavour first.
Suggested use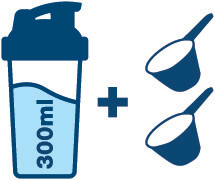 Mix 52g (= 2 scoops) powder with 300ml water.
To be used within 30 minutes before going to bed.
Drink cold or transfer into a cup and then heat in a microwave.
Product description
Scientific studies have confirmed the positive effects of protein on muscle strength and / or muscle mass and showed that protein supports rapid muscle recovery after exercise. These positive effects are maximized by taking 20 to 30g of protein every 3 to 4 hours. These doses should therefore be provided at every eating opportunity and certainly after training. For the elderly and after strength training in which the entire body is trained, even a dose of 40g protein is recommended. Regular feeding is advised but ingesting protein during the night is impractical. Moreover, setting the alarm every 3 to 4 hours during the night would disturb an athletes" sleep and recovery. That is why researches are looking for a practical solution to stimulate muscle recovery during the night.
Next to the well-known whey protein, which is absorbed very quickly, milk also contains casein protein. Casein appears to be the most suitable protein source to take before bed because of its sustained release profile. In recent years, several protocols have been tested with casein protein. A few years ago, researchers already showed that the provision of protein before bed increases muscle protein synthesis during the night. In a follow-up study, scientists showed that the ingestion of casein before sleep led to an increase in muscle mass and strength during a 12-week resistance training program. Although the optimal protocol has not yet been determined, and certainly more research is needed, there are strong indications that at least 40g of protein is needed before sleep to provide the muscles with sufficient building blocks to cover the night. Even the addition of leucine to a lower amount (e.g. 30g of protein) is insufficient.
Because of the aforementioned reasons, 6d NIGHT PROTEIN only consists of premium quality micellar casein isolate with an exceptionally high casein:whey ratio (95:5). As a result, one dose contains a whopping 37g of slow- and only 2g of fast-absorbing protein. Moreover, this exceptionally high dose of protein is offered in a relatively small volume (300ml). This reduces the chance of interrupted nights, as a larger volume of fluid significantly increases the chance of a nightly toilet visit.
In short, the 6d NIGHT PROTEIN is the ideal shake to take before bed. Especially for athletes who want to build more muscle and/or muscle strength, but also for athletes who want to optimize their night-time recovery after strenuous exercise!
More Information

| | |
| --- | --- |
| Gluten free | Yes |
| Low-carb | Yes |
| Weight | 520g |
| Quantity | 520g |
| Vegetarian | Yes |
| Flavour | Chocolate salted caramel |