No-Bake Chocolate Protein Bar
🕒40 minutes
✔ Vegan
🥣 Makes 6 bars
✔ Lactose free
🥄 after exercise
❌ Gluten free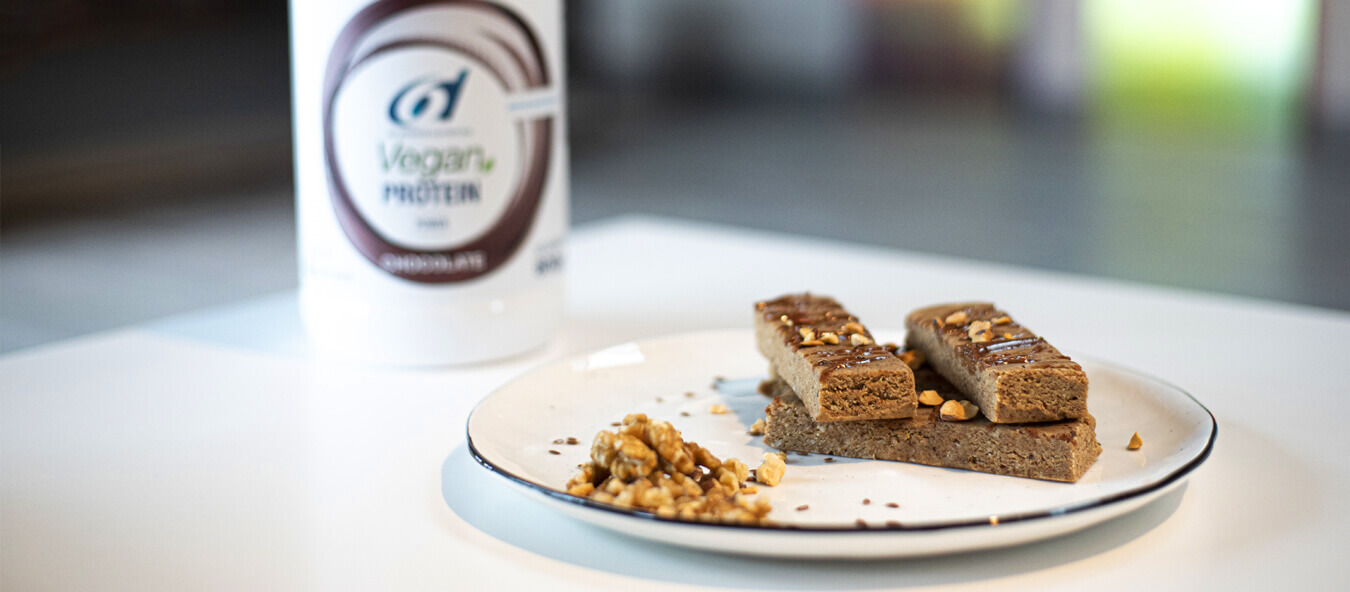 Due to the high protein content, these bars are ideal to take after a hard workout to promote muscle recovery. The bars are also very energy-rich, which makes them suitable for replenishing your energy stores after an intensive training. They can also be taken throughout the day as a protein-rich snack if your goal is to build muscle mass or you burn a lot of energy daily.
Instructions
01.
In a large bowl, combine the oats, almond flour, egg white powder, salt and cocoa powder and set aside.
02.
Heat the peanut butter together with the maple syrup until they are well-mixed.
03.
Add the peanut butter with maple syrup to the oatmeal mixture and stir well.
04.
Mix the almond milk into the dough. Add more if the dough is still too crumbly.
05.
Finally, add the chopped peanuts and ground flaxseed.
06.
Pour the mixture into a baking tray lined with baking paper and place in the fridge for at least 30 minutes.
Nutritional information
| Nutrients | Per Bar 90g |
| --- | --- |
| Energy | 360kcal |
| Fats | 17g |
| Carbohydrates | 29g |
| Fibers | 6.2g |
| Proteins | 20g |
| Salt | 1.3g |
| | | | | | | |
| --- | --- | --- | --- | --- | --- | --- |
| Nutrients | Energy | Fats | Carbohydrates | Fibers | Proteins | Salt |
| Per Bar 90g | 305kcal | 17g | 29g | 6.2g | 20g | 1.3g |