Mango Collagen Gummies
🕒45 minutes
🥣 Makes 15 pieces
🥄 before exercise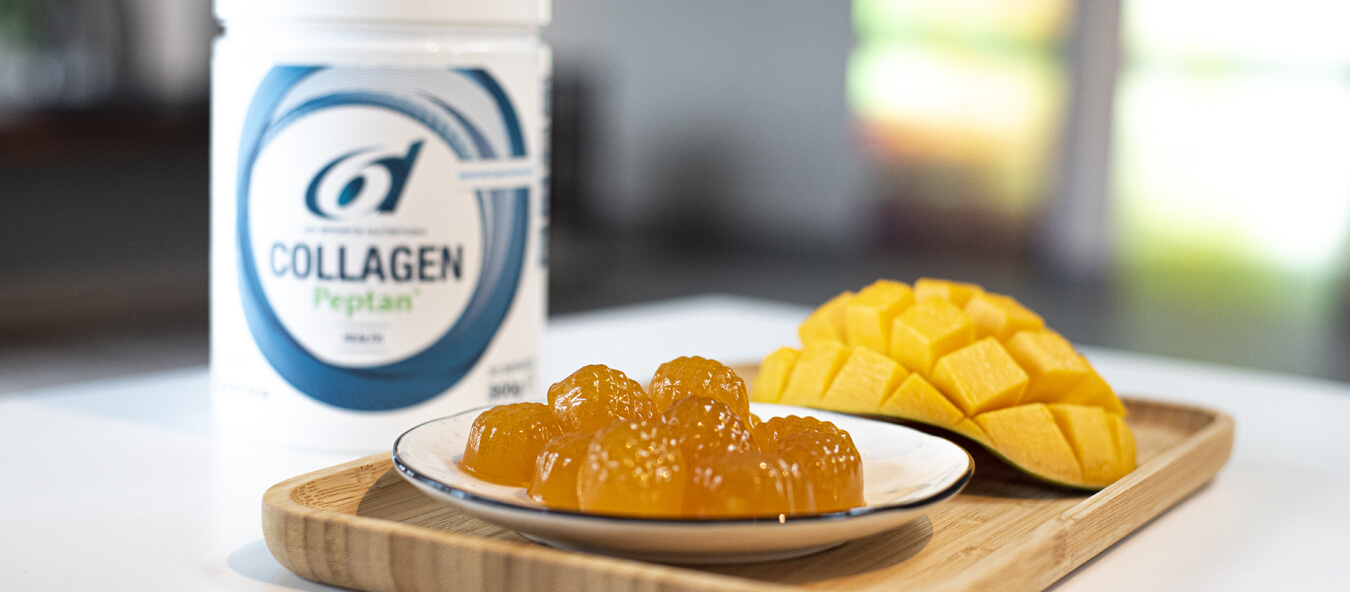 With one piece of candy, you get a serving of 2,4g of collagen and 4,5mg of vitamin C. It is recommended to take 15g of collagen 30 - 60 minutes before a rehabilitation training or training where the tendons are strained. Depending on the size of the sweets, you should take 6 to 7 gummies for a serving of 15g of collagen.
Instructions
01.
Mix all the ingredients together in a saucepan and heat until there are no lumps left. Do not bring to the boil, otherwise the gelatine will not set when you cool it down.
02.
Pour the mixture into a silicone mould for ice cubes and place in the fridge. Leave for 30 minutes until the sweets have set.
03.
Store the gummies in an airtight box in the fridge.
Nutritional information
| Nutritional values | Per candy (9g) |
| --- | --- |
| Energy | 20kcal |
| Fats | 0g |
| Carbohydrates | 4g |
| Fibres | 0.05g |
| Proteins | 2.1g |
| Salt | 0.02g |
| | | | | | | |
| --- | --- | --- | --- | --- | --- | --- |
| Nutrients | Energy | Fats | Carbohydrates | Fibers | Proteins | Salt |
| Per candy (9g) | 20kcal | 0g | 4g | 0.05g | 2.1g | 0.02g |