Interview: Granfondo Mont Ventoux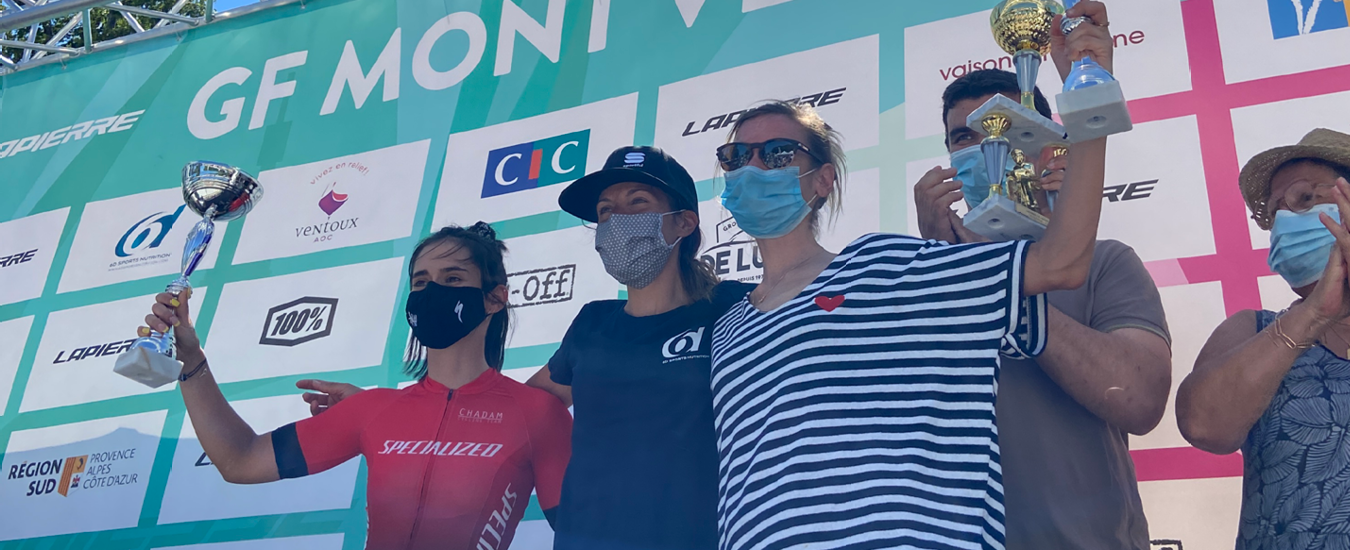 Granfondo Mont Ventoux / France
At the beginning of the summer the Granfondo Mont Ventoux was on the program, read the stories of our athletes here.
In the weekend of June 11th, 2021, the giant of the Provence was once again the setting for a beautiful Granfondo ride. A part of the 6d Sports Nutrition team travelled to France where we could not only enjoy a beautiful weekend. We also saw our ambassadors had trained a lot! To celebrate these great performances, we asked them for a short interview about their experience.

Séverine Joan, winner of the long-distance ride (women), is a former gym teacher who has decided to move to Toulouse to work as a real estate agent. Séverine is in love with the mountains, therefore she moved really close to the Pyrenees. Séverine's parents always had a bike store in Bretagne, so it may sound ironically to say she only started cycling at the age of 18. It was on her bike that Séverine learned not to give up, "You learn to get to know yourself and control your emotions, this was very important for me at the age of 18.". Séverine got to know 6d Sports Nutrition thanks to social media. Very quick she felt a connection and she learned that we shared the same values in sports.

Olivier Godfroid, winner of the long distance (men), is a representative living in Merksem. After a long-time playing soccer, he decided to re-educate himself into an endurance athlete in 2017. He started with triathlon and would participate his second world championship in 2020. Due to a lot of problems regarding COVID-19 he was only able to cycle in the last year. Olivier's first experience with 6d Sports Nutrition was thanks to his cycling friends from 'The Biker Boys'. "Those guys were using 6d as their sports nutrition, they were riding so fast! I've decided I had to use the same fuel!". A year later he joined 'Los Jamberes' on their yearly training camp in Mallorca where he could see them all using 6d Sports Nutrition as well. "2 great cycling groups with the same fuel… This couldn't be a coincidence!"

Delphine Reinert, winner at the short distance ride (ladies), is a business in control manager from the Provence. She started cycling in 2010 and immediately discovered the joys of life. As a self-employed secondary activity Delphine also organizes cycling rides and she helps others with coaching. As the love for the sport was growing, she was searching for goal-oriented training concepts. She got herself a professional coach in 2019 but only due to COVID-19 she had to wait until now to show off her improvements. Delphine got introduced to 6d Sports Nutrition after seeing the products being used by Deceuninck – Quick-step. It was at a Granfondo event that she got the chance to test the products herself, these were phenomenal in comparison to the products she used.

At last we had the chance to speak to Catheline Ramonet, she finished in second place at the short distance (women). Catheline is 22 years old, lives in Dijon, where she also plays wheelchair basketball at JDA Dijon. She started mountain biking because she liked it and got encouraged to hit the road. Catheline immediately liked it a lot and she decided to put her training plans to a higher level.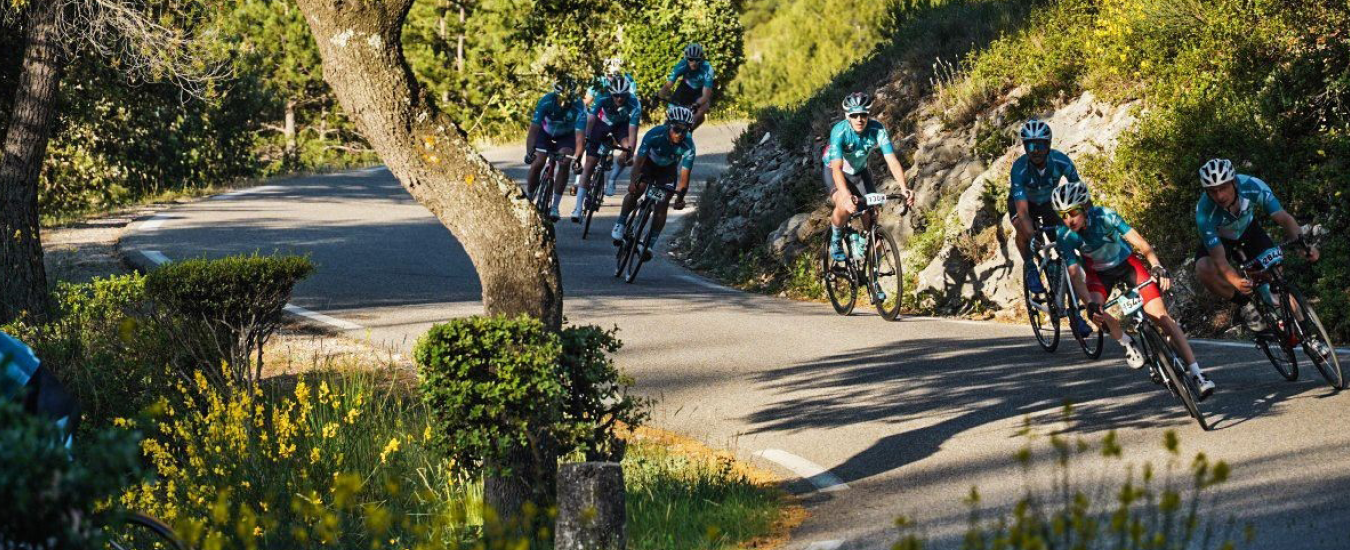 The words Granfondo are native Italian and mean "big race". Everyone can participate in these rides! The races have a minimum distance of 120km and usually have a lot of altimeters. This ride for example had 3500 altimeters over 120km.

About his race Olivier said this: "In my opinion I had to start way too far in the back (+- place 300). Therefore, I tried to move myself in the race as fast as I could to join the people up front. At the first obstacle of the day (Col de la Madeleine) there were a few attacks, but no one succeeded to escape. Together with 3 others we had more luck after 30km on the hill. After a few kilometres we were left with 3 riders, 2 French guys and me. The cooperation was wonderful, and everyone was working hard! Our lead was growing. At the start of the Ventoux we had about 5 minutes distance with the following squad. Immediately after we started climbing, I decided to attack." Séverine's race went way better than last year, even though in her opinion she could have done better tactically. This year's race she started with one keyword, "fun". The day before she already had enjoyed the meetups with new people at the 6d stand a lot. When she approached the base of the Mont Ventoux, she got told she was the second woman. "I said to myself, 'this is cool, now let's try to get to the top.' without thinking about the results. After passing the red flag I saw the woman in front of me. That's where the instinct took over! I was riding towards her while cheering up myself. In that moment i felt no pain, for a few seconds it felt like I was standing on top of the world. I just kept hitting the pedals and went for the top. The emotions were huge!" The participants of the long-distance ride both said they were struggling the most with the forest of Bédoin. "10km long on a hill of 10%, that hurts." Olivier says.

It's obvious that our most important question is what product the athletes used to fuel this 120km long road race. "With the Energy Cake of course!" Séverine immediately says. "The Gorges de la Nesque with an Energy Cake how can things get better?".

Olivier was counting on his Hydro/ORS. "With temperatures up to 35°C I always drink the Hydro/ORS. Also, I took 750ml of the Energy Sports drink as a carbo loader and used the Night Protein the night before. During the race I ate an energy bar in the first hour, afterwards I moved over to gels, varying Isogels with Energy Gels."

For Delphine this race was a home game, although she started her race with a lot of stress. "This race is a personal challenge to me with the climb of the Giant. For me he's most important, because I was born in the Provence, and it is a symbol to me. The Mont Ventoux is the guardian of the Provence." Delphine defended last year's title and had an intense training camp before. "They said it would get hot so I was prepared with loads of water and Isotonic Sports Drink. The hardest part to me was the Col de la Gabelle, because of the bad surface it is hard to move there. The track and heat were really testing my strengths and I needed a while to recover, while my parents were waiting for me at the top. I could hardly believe I had won after finishing."

Catheline had to suffer a big crash at the start of her race. "I didn't want to let go all those girls, so I tried really hard to return into the small group up front. At the base of the last climb of the mountain I was alone with wind facing me. I didn't know if there were a lot of girls in the front. Therefore, I had to clamp myself to the rider in front of me. It was very warm, I needed to focus on my hydration and fuelling and I knew it was going to be tough both physically and mentally." For Catheline it was also the Col de la Gabelle that was the toughest part.

The night before Catheline also drank a Night Protein. She loaded herself with a balanced meal in combination with an Energy Cake and an Energy Nougat. During the race she trusted on Isotonic Sports Drink in combination with Energy Gels & Energy Fruits.

National championships, Belgian classics, loads of fun and of course loads of Granfondo rides. This is what the calendar of our ambassadors looks like when we ask them to look into the future… If we ask them if they return next year, they all say "Yes!".

Just like them we are looking back on this weekend with a wonderful feeling, therefor we would like to thank the organisation and all the participants, see you in 2022!